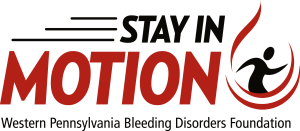 If you have a bleeding disorder and are questioning whether you should be physically active, the answer is a definite "Yes!" Regular physical activity has great benefits, such as improved cardiovascular fitness and healthy weight. It can also lower the risk of spontaneous joint bleeds, reduce feelings of anxiety and depression, and help you sleep better. The Stay In Motion program was designed in partnership with the Hemophilia Treatment Center of Western Pennsylvania (HCWP) to provide all members with the education and tools for assessing their current physical condition, talking with their healthcare team, setting goals, and creating a plan for physical activity.
In addition, we want to provide access to a variety of physical activities to enable YOU to reap both the mental and physical benefits of exercise!
When you register for this program, you will receive:
Checklist with resources to help you get started
Access to educational videos
Motivational time marker water bottle and infuser
Journal to make and track goals
Support from the HCWP Physical Therapist and Social Worker
Invitations to participate in educational programs on physical and mental well being
Weekly educational resources to keep you motivated
Fun monthly fitness challenges with chances to win prizes
Community support and a safe space to share tips and get advice
Registration for this program is free for eligible persons.
Eligible persons include:
• individuals ages 13 and older diagnosed with a bleeding disorder and living in one of the 26 counties of Western PA or treated at the Hemophilia Center of Western PA; or
• parents living in the same household as an individual with the diagnosed bleeding disorder; or
• friend or family member of the parent or person diagnosed with a bleeding disorder who is enrolled in the program and is age 13 or older.