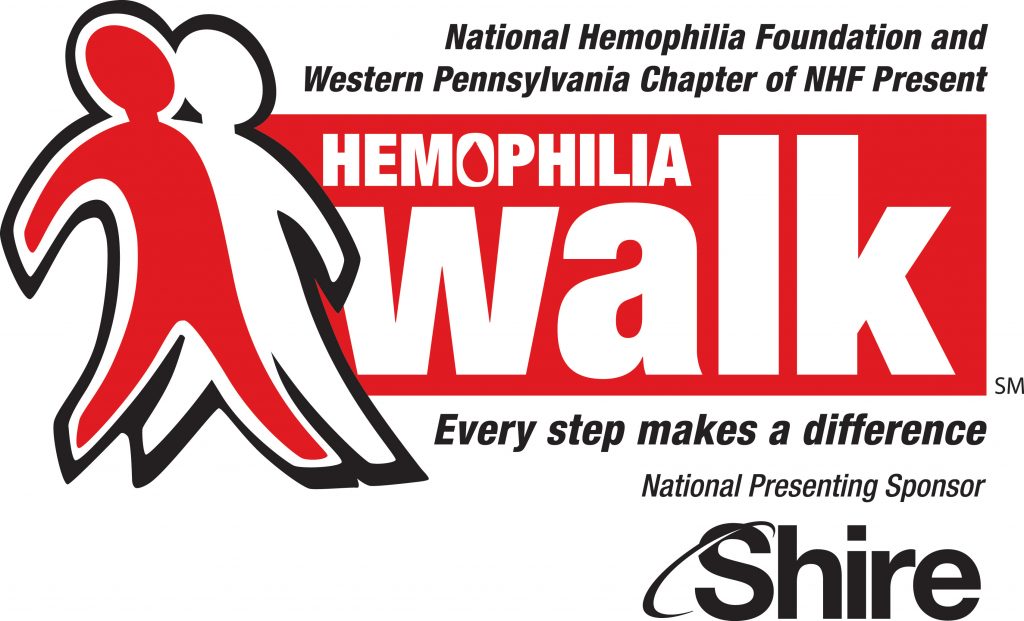 Families & friends gathered at the North Park Boat House to support a very important cause, the 2017 Western Pennsylvania Hemophilia Walk, Run for Their Lives 5K, and the WPCNF's 3rd Semi-Annual Cornhole Tournament on Saturday, September 9, 2017. All three of these events continue to be a resounding success with over $65,000 raised to support the bleeding disorders community in Western Pennsylvania.
This year's highlights included appearances and a song and dance performance from Elsa, Anna, Pocahontas, Belle, Spider Man, Iron Man, Merida,
Captain America and Moana from Angel's From the Heart, a face painter, balloon artist, DJ, photo booth and a lot of special touches that made this day fun for the entire family. Thank you to: First Class Entertainment for the DJ and Photo Booth services, Cynthia Jewel from Face Paint Pittsburgh, Balloon Artist Faerie Grace, Sheetz Brother's Coffee Truck, Kona Ice Pittsburgh, WISH 99.7 Street Treat Patrol, Star Wars character from Garrison Carida 501st Legion, and the very talented princesses and super heroes from Angels from the Heart.
This day would not be possible without the support of our many team captains who rallied their runners and walkers and went over and beyond in all that they did. Thank you to all 34 of our Walk Teams! A special shout out to the teams who have raised $1,000 or more: Conor's Clan, Luke's Ewoks, The Garrett & James Gang, Team Pace, Gino's Gang, Team Jaxson, Clotting Cavaliers, Cooper's Troopers, Red 'N Plenty, Maxwell House, and Cameron's Walking Sticks.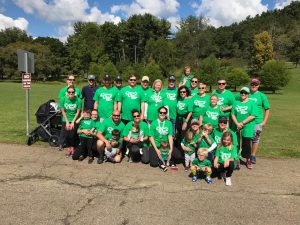 Congratulations to our top fundraising team, Conor's Clan, who raised an amazing $8,261! Thank you to this year's Walk Chair and Top Individual Fundraiser, Emily Nikithser. Emily joined the Hemophilia Walk last year as the Team Captain of Conor's Clan. In her first year as Team Captain, Conor's Clan raised over $8,150! This year, Emily did an incredible job holding two very successful fundraisers including Conor's Clan's Car Wash and Conor's Character Breakfast. On top of fundraising Emily is an active member of the Chapter and volunteers time at the Chapter helping with mailings.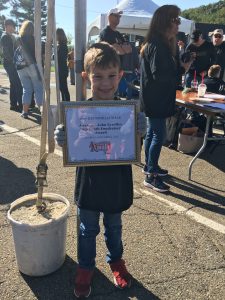 Congratulations to the winner of the Awesome John Eyrolles Top Youth Fundraiser Award, Luke Miller, who raised an incredible $3,035.40! Every year Luke raises money for the Walk by holding a lemonade stand. Luke's cousins started Luke's Lemonade Stand. In the first year they sold just lemonade. Over the years, they have added snacks & hot dogs. Each year they get a decorated envelope on walk day with all of their collections. This year Luke, his brother Sam, and one of their friends took over running this very successful lemonade stand!
Thank you to all of our Factor Club Members who have raised $500 or more for the Hemophilia Walk! Medals were awarded to the following Factor Club Members: Emily Nikithser of Conor's Clan, Luke Miller of Luke's Ewoks, Gabbie Rose of Clotting Cavaliers, Gwen Austin of Clotting Cavaliers, Eileen Nikithser of Conor's Clan, Nikki Micholas of The Garrett & James Gang, Russell Werme of Conor's Clan, Tracy Sethman of Red 'N Plenty, Cooper Aberegg of Cooper's Troopers, Dave, Richelle, Triston, Mason, and Avery Sasala of The Garrett & James Gang, Barbara O'Connor of Luke's Ewoks, Jen Werme of Conor's Clan, Kara Dornish of Kara's Walkers, Dawn Rotellini of Gino's Gang, Jaxson Baker of Team Jaxson, Kelly Baker of Team Jaxson, Gavin Coblentz of Coblentz Clotters, Charlotte Rosborough of Charlotte's Hemo Heroes, Janet Barone of Cameron's Walking Sticks, and Chelsea Greer of Team Greer.
This year's event had fabulous t-shirts designed by many of our walk teams.  Thank you to Jamie and Darin from Printeesweet for the printing of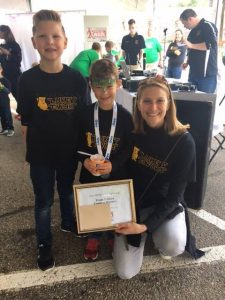 them, and for the many families that took time out to vote for their favorite t-shirt the day of our Walk.  Congratulations to Luke's Ewoks as the official Team T-shirt Winner, raising over $100.
Thank you to Pro Bike + Run for the great job they did managing the Run for Their Lives 5k and to everyone who participated in the run. We are excited to announce that over $15,000 was raised from the Run and will stay local to support the members of WPCNHF.
Congratulations to the winners of the Run for Their Lives 5k!!
Top 3 Youth Finishers
1.) Dominik Gladish – 25:47
2.) Gavin Coblentz – 28:15
3.) Kayli Yip – 29:49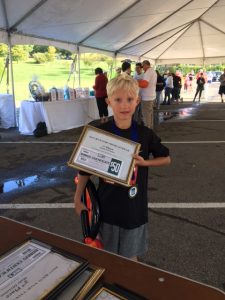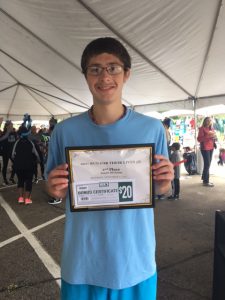 Top 3 Female Finishers
1.) Jodie White – 26:40
2.) Jennifer Bobonski – 27:00
3.) Kristina Roland – 27:42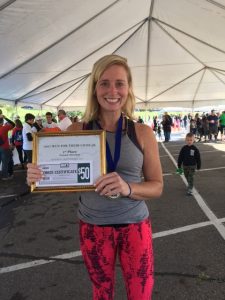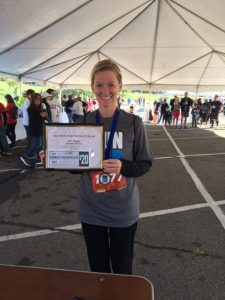 Top 3 Male Finishers
1.) Robert Richards – 19:40
2.) Francis McCaffrey – 22.:30
3.) Todd Pingley – 22:31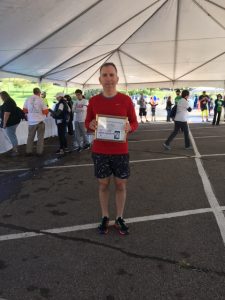 Thank you to Joe Castellano from Steel City Cornhole for running our 3rd Semi-Annual Cornhole Tournament! The Cornhole Tournament brought in over $4,000 all of which will stay local to support individuals with bleeding disorders in Western PA. Congratulations to the winners of the tournament! First Place went to Tybo and Bernie of Gators, second place went to Tyler and Ryan of Dayton Breakfast Club, and third place went to Joe and Joey of the Double J's!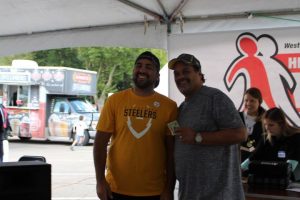 Lastly and most importantly, thank you to each and every one of you that literally 'took steps' to join our cause. 100% of the money raised from the Walk, Run, and Cornhole Tournament stays local to promote patient advocacy and blood safety for everyone, support families in need by offering assistance with medical bills. travel, knee/elbow braces and other medical devices, provide medical ID jewelry to our members at no cost to them, provide local educational programming throughout the year, provide a support network to all our community members, and create and increase awareness about bleeding disorders.
Mark your calendar now for our next fundraiser, Boo-ling for Bleeding Disorders! This Halloween Costume Party and Bowling Fundraiser will be held on Sunday, October 29th from 2pm-5pm at Paradise Island Bowl!  The cost is $25 per person and includes bowling, shoe rental, prizes, pizza, wings, and unlimited soft drinks!  Click here for more information and to register for BOOling for Bleeding Disorders.