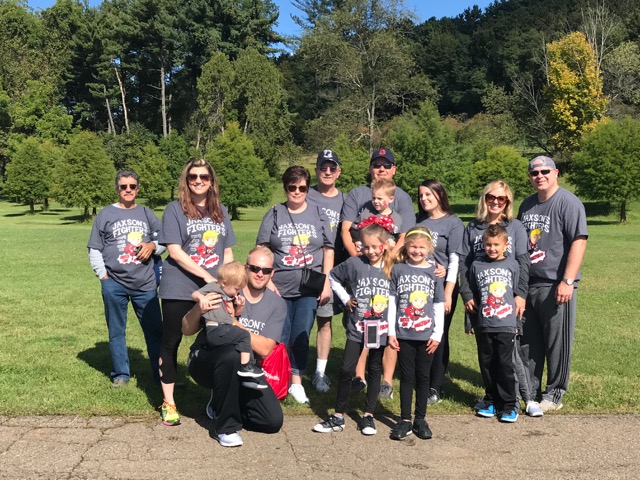 This year, we celebrated our 12th Annual Unite for Bleeding Disorders Walk! The Walk was held on Saturday, October 10th and coincided with the National Hemophilia Foundation's (NHF) nationwide Unite Day. While our walk moved to a virtual event and looked different than usual, friends, family, and supporters still came together to raise nearly $50,000 to support the bleeding disorders community of Western Pennsylvania!
The day started at 10:00 am with the Walk Day Coffee Shop. Our amazing local sponsors had a chance to say hello to the community and everyone could catch up with friends and family. Five random participants on the Zoom call also won their very own pair of blood drop socks! The Unite presentation and Top Fundraising Awards ceremony began at 11:30 am and the morning came to an end with our Pinwheel ceremony at 11:45 am. Over 30 families and individuals joined the call to Unite for Bleeding Disorders!
This day would not be possible without the support of our many team captains who rallied their runners and walkers and went above and beyond in all that they did. Thank you to all 19 of our Walk Teams! A special shout out to the teams who really went above and beyond and raised $1,000 or more: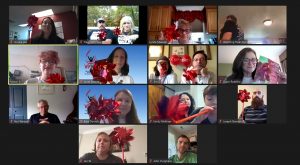 Rolling for Ryker – $4,650.00
Conor's Clan – $3,861.86
Red N' Plenty – $2,571.00
Watching River Run – $2,175.00
Team Jaxson – $2,255.00
Cameron's Walking Sticks – $1880
Gino's Gang – $1,495.00
Charlotte's Hemo Hero's – $1,200.00
Aberegg Army – $1,166.00
Maxwell House – $1,045.00
Congratulations to our top fundraising team, Rolling for Ryker, who raised an incredible $4,650! Thank you to the Team Captain of Rolling for Ryker, Mindy Perry-Stern! This year marked the third walk Rolling for Ryker has participated in. Mindy has been an active member of the Chapter ever since her three-year-old son, Ryker, was diagnosed with Hemophilia A in 2017. Last year, she appeared on Wish 99.7 FM with WPCNHF's Executive Director, Kara Dornish, and shared her story with Cris Winter. This year, Mindy's walk team started fundraising way back in November 2019. They hosted a 50/50 raffle and mystery prize raffle and raised over $2,000 in one night! They also hosted a bingo fundraiser at the Red Fox Winery in Hickory, PA in February. The winery generously donated 10% of all their wine sales that day back to the Chapter. We are so thankful for all of Mindy, and her team's, hard work and dedication to the entire bleeding disorders community.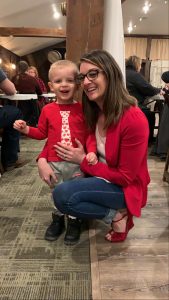 This year's Top Individual Fundraiser was Tracy Sethman, who individually raised an amazing $2,546. Tracy is the team captain of Team Red N' Plenty. This year was Red N' Plenty's 7th walk! Tracy and her family are affected by von Willebrand Disease and walk to raise awareness for all bleeding disorders. Each year, the team donates raffle items and even volunteers to run and sell tickets at the raffle table at the Walk. This year, Tracy put together and donated over 10 baskets! Thank you so much to Tracy and everything she does for the Chapter!
Finally, a big congratulations to the winner of the Awesome John Eyrolles Top Youth Fundraiser Award, Jaxson Baker, who raised an amazing $215! Jaxson is the inspiration for his walk team, Team Jaxson. Jaxson was diagnosed with Hemophilia A when he was seven months old. His parents and big sister, Analise, always join the walk to support him each year! Thank you and congratulations, Jaxson!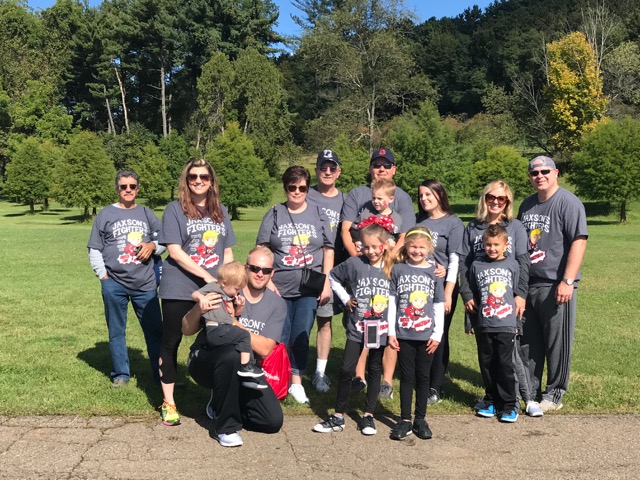 Thank you to all of our Factor Club Members who have raised $500 or more for the Unite for Bleeding Disorders Walk! Medals were awarded to the following Factor Club Members:
Brooke Aberegg of Aberegg Army, Cooper Aberegg of Aberegg Army, Josh Baker of Team Jaxson, Jaxson Baker Team Jaxson, Kelly Baker Team Jaxson, Janet Barone of Cameron's Walking Sticks, Michael Covert, Cameron Cedeno of Cameron's Walking Sticks, Kara Dornish of Kara's Walkers, Jessica Lee of Team Heart and Sole, Lynda Maxwell of Maxwell House, Conor Nikithser of Conor's Clan, Emily Nikithser of Conor's Clan, Eileen Nikithser of Conor's Clan, Steven Nikithser of Conor's Clan, Melinda Perry of Rolling for Ryker, Michael Perry of Rolling for Ryker, Michelle Perry of Rolling for Ryker, Dawn Rotellini of Gino's Gang, Gino Rotellini of Gino's Gang, Steven Stern of Rolling for Ryker, Ryker Stern of Rolling for Ryker, Robert Sethman of Team Red N' Plenty, Tracy Sethman of Team Red N' Plenty, Jen Werme of Conor's Clan, and Russell Werme of Conor's Clan

The Unite for Bleeding Disorders Walk would not have been possible without the extremely generous support of all of you and our National & Local Sponsors.
Our National Sponsor: National Presenting Sponsor, Takeda
Our Unite Level Sponsors: Sanofi Genzyme, Bayer, Grifols, and Optum
And Our Partner Level Sponsor: Accredo
Our Local Gold Sponsors: UPMC and the Hemophilia Center of Western Pennsylvania
Our Bronze Sponsors: BioMarin, CSL Behring, CVS Specialty, Genentech, and Novo Nordisk
Our Supporter Sponsors: American Electric Power, My Heroes Sub Shop, and Spanos Group of Raymond James
Please take a few minutes to check out their virtual booths by going to bit.ly/wpaunited.
Lastly and most importantly, thank you to each and every one of you who came together with us to Unite for Bleeding Disorders. 100% of the money raised from the Walk stays local to promote patient advocacy and blood safety for everyone; support families in need by offering assistance with medical bills, travel, knee and elbow braces and other medical devices; provide medical ID jewelry to our members at no cost to them; provide local educational programming throughout the year; provide a support network to all our community members; and create and increase awareness about bleeding disorders.
Mark your calendar now for next year's Unite for Bleeding Disorders Walk, Run For Their Lives 5k, and Cornhole Tournament taking place at the North Park Pool on Saturday, September 18, 2021!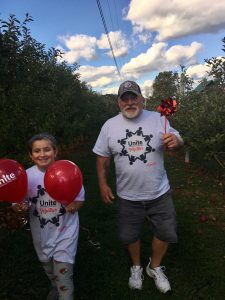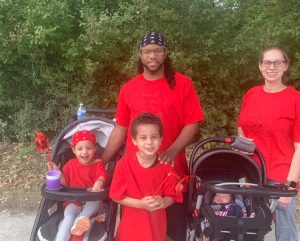 ---
Upcoming WPCNHF Fundraisers
We are hosting a WPCNHF take-over at Three Rivers Paintball's Zombies of the Corn on October 25, 2020. Enjoy a hay ride and shoot your way through a zombie infested field (where the zombies can't shoot back!), try to escape the haunted compound, and see it you can make it out of the corn maze!  You can purchase your tickets online at zombiesofthecorn.com. Use the code "WPCNHF" when purchasing your tickets and Three Rivers Paintball will donate $5 back to the chapter!  This event will sell out, so be sure to reserve your spot!
Take A Bough is back on November 16-21, 2020! Join us for holiday trivia, mixology classes from local wineries, and an auction with beautifully decorated holiday trees, wreaths, and centerpieces. Tickets to our event will be $15. Purchase tickets at bit.ly/takeabough8!