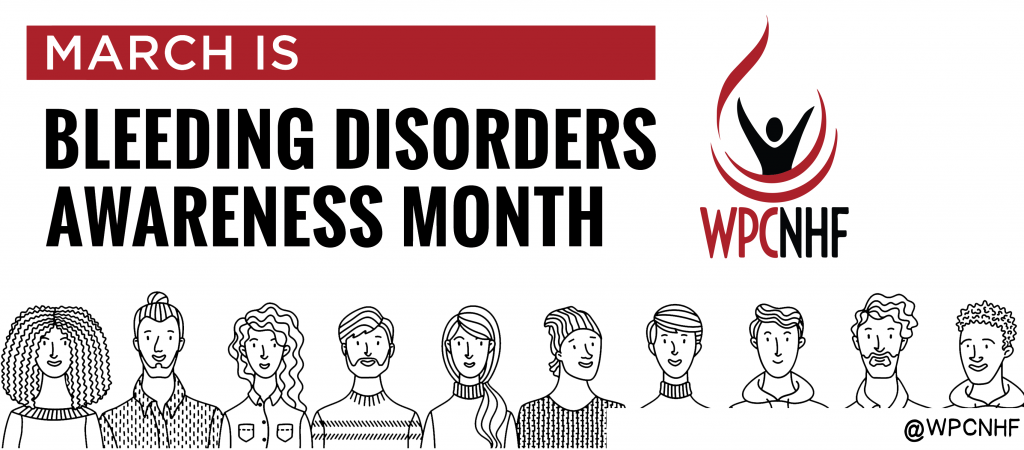 March is nationally recognized as Bleeding Disorders Awareness Month. Join WPCNHF in celebrating and honoring the bleeding disorders community. In 2016, thanks to NHF's advocacy efforts, March was officially designated as Bleeding Disorders Awareness Month.
During Bleeding Disorders Awareness Month, we invite members, friends, and supporters of the bleeding disorders community to join us in raising critical awareness and funds to improve the lives of those diagnosed with a bleeding disorder.
This year, WPCNHF invites you to raise awareness by playing Bleeding Disorders Awareness Bingo! Complete as many challenges as you can in the month of March and try to get a bingo! (We're playing standard rules, so 5 across, 5 down, or 5 diagonally.) Get a bingo and we will send you a Unite for Bleeding Disorders t-shirt!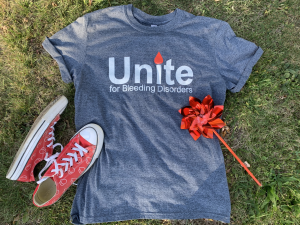 How to win:
Complete the challenges on the board and post any photos to social media (make sure to tag @WPCNHF). Screenshot your posts or registration confirmations and email them, along with your completed bingo card to info@wpcnhf.org. You have the entire month of March to play, please be sure to submit your completed bingo card and photos by April 1st. Post your bingo board progress on your story to mark off your squares and challenge others to play!
#BDAMChallenge
Follow WPCNHF on Facebook, Twitter, and Instagram for more facts and challenges throughout the month! Right click on the photo below to download your bingo card and start playing!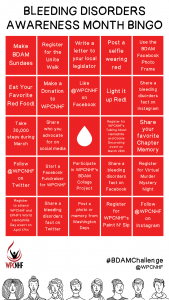 You can support the Western PA Chapter of the National Hemophilia Foundation by donating today!