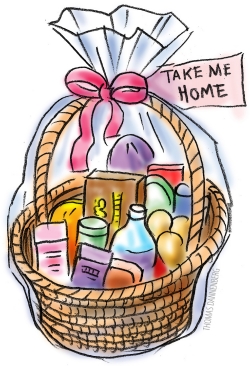 We will be raffling off gift baskets after the walk on September 12th!
Tickets  for the chinese auction will be 3 for $5 or an arms length for $10.
Don't miss out on your chance to win one of these great baskets!
Tastefully Simple Basket
Spinach and Herb Dip Mix
Classy Chocolate Pound Cake Mix
Cinnamon Muffin Melt Mix
Artichoke and Spinach Warm Dip Mix
Buttered Run Sauce
Vanilla Bean Chai Drink Mix
Garlic and Parmesan Basked Crackers
Orange Dreamsicle Cheese Ball Mix
Beauti Control Basket
Pedicure Spa Cooling Foot Salve
Pedicure Spa Foot Spray
Skinlogics Herbal Serenity Foot Crème
Warming Massage Oil
Under Eye Dark Circle and Puffiness Solution
Therapeutic Bath Mineral
Nourishing Eye Pads
Lash Enhancing Eye Make Up Remover
Barks and Recreation Basket
Free Groom at The Dog Wash and Grooming Inc.
Medium Sized Pet Carrier
Blue Elephant Chew Toy
Foo-Foo Island Coconut Mist
Fresh Breath Clean Teeth Gel
Mini Retractable Blue Lead
Outdoor Travel Bowl
Red Leash
Waste Bag Tote
 Bath and Body Works Basket
Pumpkin Pecan Waffle Candle
Pumpkin Pie Candle with Holder
Sweet Cinnamon Pumpkin Candle
Pumpkin Air Freshener
Sweet Cinnamon Pumpkin Scentportable
Pumpkin Cupcake Scentportable
Shower Loofah
Marshmallow Pumpkin Latte in Lotion,
Shower Gel, and Fragrance Mist
Sweet Cinnamon Pumpkin in Lotion,
Shower Gel, and Fragrance Mist
2 Marshmallow Pumpkin Latte Foaming Hand Soaps
2 Sweet Cinnamon Pumpkin Foaming Hand Soaps
2 Pumpkin Pecan Waffle Foaming Hand Soaps
Joico Hair Beauty Basket
K-Pak Intense Hydrator
Detangler Pro Brush
Volumizing Finishing Spray
K-Park Shampoo
K-Pak Conditioner
Thermal Protectant Spray
The Great Outdoors Basket
$25 off at BBD Gun and Ammo
Handgun Ammo Case
Real Tree Camouflage Cup
Foam Ear Plugs
Rem Oil Wipes
Portable Charger and Flash Light
Safety Eyewear Glasses
Camouflage Carrying Case
Champion Targets
 Something for Everyone – Avon Basket
$100 Gift Certificate to Snapshot Photography
Sweet Honesty Cologne Spray
Skin So Soft Bath Oil Spray
Wild Country Cologne Spray
Sweet Indulgence Bubble Bath
Shower Loofa
Skin So Soft Body Lotion
Teenage Mutant Ninja Turtle
Disney Lamb Stuffed Animal
Ultimate Feel Good Basket
31 Collapsible Tote Bag
Advocare Spark Energy
Advocare Metabolic Nutrition System
Arbonne Ultra Hydrating Handcreme
Scentsy White Tea and Cactus Hand Soap
Scentsy Warmer
Paradise Punch Scentsy Bar
Echo Scentsy Bar
Fiesta Plate
Hugs and Love Hanging Basket with Wash Clothes
Origami Owl Floating Locket
Beach Tote
 Positively Pittsburgh Basket
4 Pirates Tickets
Monday, September 28th 7:05pm
Game 76 – Pirates vs. Cardinals
Pirates Game Parking Pass
Xfinity Comcast Gift Bag
Pittsburgh Home Keychain by: Hookstown
2 Sets of Pittsburgh Greeting Cards by: Loose Petals
2 Bars of Steelers Kaleidoscope Soap by: Rose's Soap Spa
Pittsburgh Cityscape Poster by: Hasso Studio
4 Pittsburgh Sketch Mugs by: Stak Ceramics
Chocolate Body Scrub by: Hotbox Hipster
Signed Photo of Pittsburgh Steeler – Antonio Brown
Fun and Games Basket
2 $25 Gift Cards to Toys R Us
5 BOGO tickets to Family Bowlaway Fun Center
Imaginarium Learning 5 in 1 Puzzle and Game Box
Crazy 8's Card Game
Old Maid Card Game
2 Packs of Royal Play Sand
Washable Sidewalk Chalk
Frozen Watercolor Paint Set
Spiderman Watercolor Paint Set
Pink and Blue Sparkle Jump Ropes
Disney Princess Coloring Paint Set
Spiderman Coloring Paint Set
Disney Happy Smiles Dentist
Chutes and Ladders
Butterfly Garden Sticker Book
Frozen Sticker Sheet
Minnie Mouse Sticker Book
Flowerland Fairies and Bugs Stickers
Barbie Color Wonder Mess Free Coloring
Barbie Paint Set
2 Lego Friends Sticker Sheets
2 Sets of Fastlane Cars
3 Boxes of Crayons
2 Stack-A-Bubbles
Play Doh
Perfectly Posh Bag
Big Fat Yummy Hand Cream:
Berrly Behaving
Sassyooma
All Mixed Up Bath Effects:
Fine Shine
Tea Zing
Honey Come Hither
A Rose is a Rose is a Rose
Cranberry Captivation
Muscle Through
Mint for Each Other Body Scrub
Gender Bender Bath Bar
Treat Yourself Bath Bar
Spring Fever Body Cream
Snarky Dark Scrub Bar
Daily Grind Soap Bar
Dragon Mojo Skindelicios
Life is a Joy Coconut Oil
Clearly I Sparkle Lip Gloss
Skin Vixen Dry Body Oil
Hail to Pitt Basket
Two Pittsburgh Panther Football Tickets
Pitt vs. North Carolina
Thursday, October 29th 7:00pm
Medium Pitt T-Shirt
Pitt License Plate
Vinyl Car Decal
Mini Pitt Football
Pitt Pom Pom
Mystery Basket
???
We would like to give a huge thank you to Kelly Baker and Team Jaxson for donating and securing a large number of items and gift baskets for the auction.  Thank you to Brittani Reed for donating the Hail to Pitt Basket.