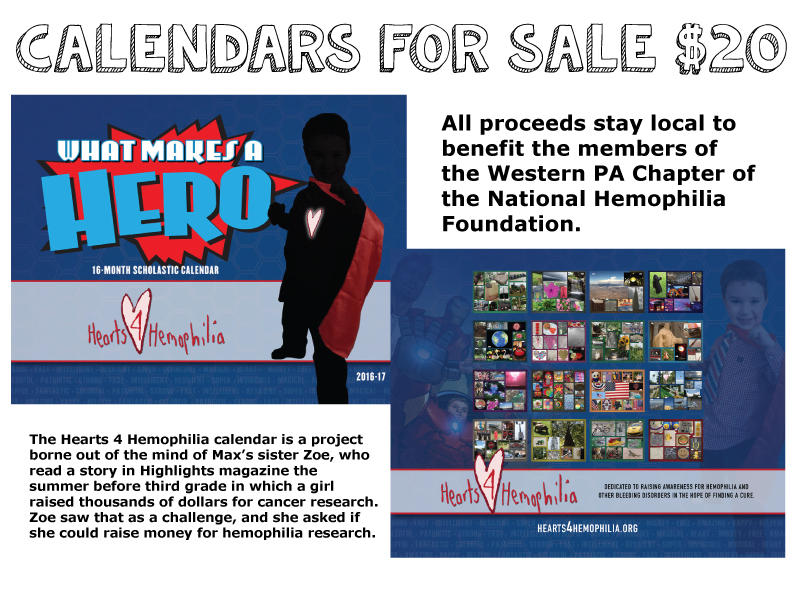 The Western PA Chapter of the National Hemophilia Foundation is selling Hearts 4 Hemophilia Calendars!  The calendars are $20 a piece and when you purchase them through us all the proceeds stay local to benefit the Western Pennsylvania Chapter of the National Hemophilia Foundation.  This year's calendar features photos from more than 25 kids, ages 2-11!
The Hearts 4 Hemophilia calendar is a project borne out of the mind of Max's (read about Iron Max here) sister Zoe, who read a story in Highlights magazine the summer before third grade in which a girl raised thousands of dollars for cancer research. Zoe saw that as a ch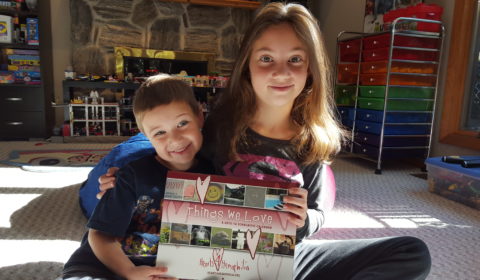 allenge, and she asked if she could raise money for hemophilia research.
Zoe explains in the opening letter of the calendar, this year's theme of "What Makes a Hero" is a little different than "Things we Love," thanks to Max's newfound super hero status.
This year the calendar has a different theme: "What Makes a Hero." We chose it because of what happened with Max. He was in Marvel's Invincible Iron Man comic book, and we were invited to two amazing hemophilia conferences – HFA in Las Vegas and NHF in Orlando – after appearing on NBC Nightly News and CBS 3 in Philly when our great friends (and fellow photographers) helped us raise thousands of dollars for Children's Hospital of Philadelphia.

So, what makes a hero? A hero has many traits, and we decided to have them make up every month in our calendar. These traits can be in all of us. Especially awesome kids with bleeding disorders like Iron Max.
The calendar's monthly themes include traits like Resilient, Mighty, Patriotic, Magical, Super, Fantastic, Helpful, Intelligent and, of course, Invincible.
If you are interested in purchasing a calendar you can e-mail Kara at kara@wpcnhf.org, call the Chapter office at 724-741-6160, or stop by the Chapter office during business hours Monday-Friday 9am-4pm.
Learn more about the calendars here: http://hearts4hemophilia.org/