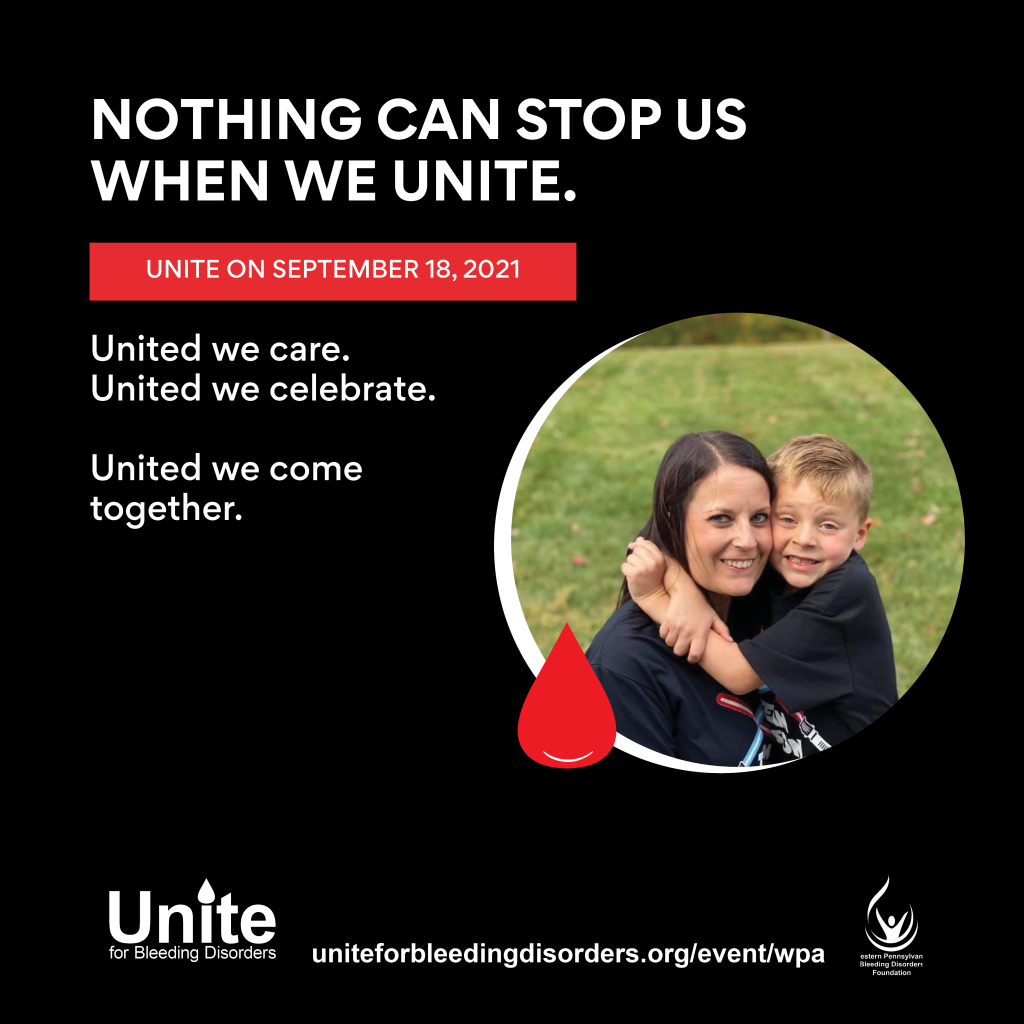 Team Jaxson UNITES to celebrate seven-year-old Jaxson, who was diagnosed with severe hemophilia type A when he was seven months old. His mom, Kelly, is the team's captain and along with his dad, Josh, and big sister, Analise, they will be walking their 7th bleeding disorders walk this year!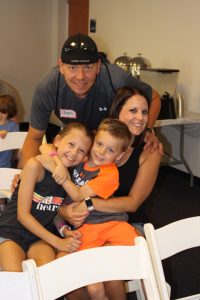 Kelly and Josh had no family history of bleeding disorders and had no idea what the diagnosis meant for Jaxson or their family when they received it. "We received the diagnosis sitting in Pittsburgh's Children's Hospital," Kelly says. "He had been admitted for a week and on day two, we found out he had hemophilia. We did the horrible thing of googling hemophilia, which was the worst thing to do. It was shock. We were very scared because we wouldn't know what his life would look like."
Right after Jaxson was released from the hospital, they met with the Hemophilia Center of Western Pennsylvania (HCWP) to get some guidance. During that visit, Kelly and her family were also introduced to the Western Pennsylvania Bleeding Disorders Foundation (WPBDF) and what resources they had available. "Fortunately, we became very educated and heavily involved with the HTC and the Chapter. I realized that I didn't have to quit my job to stay with Jaxson and there was treatment for him," Kelly adds.
Following that initial meeting, Kelly started following WPBDF and the bleeding disorders community on social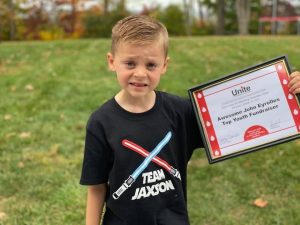 media. Since Jaxson was diagnosed in the summer, she saw the Unite for Bleeding Disorders Walk coming up in the fall and wanted to be involved.
This year, Kelly volunteered to be the Walk Chair to help raise awareness for bleeding disorders and advocate for the community. This is her second time chairing the Unite Walk.
"For us, it is really important for as many people, whether they are friends, family, or co-workers, to come together for the Unite for Bleeding Disorders Walk near and far," she says. "One thing that I really positioned when inviting people to our walk team this year was the virtual option. I have family in Florida and South Carolina who don't always get to walk with us. They still support us every year, but now they can join in on this celebration."
Each year, Kelly and her family work hard to fundraise for the Walk. They host fundraising nights at local restaurants and sell t-shirts to show support for Team Jaxson.  "I feel like it is really important [to fundraise], because all the proceeds stay local with WPBDF. I know it is supporting families who are members of our chapter, who might be going through a difficult time or might need more educational resources and support." This year, Kelly utilized social media to share her story and expressed how important these funds are. She made sure to stress that every little bit truly makes a difference.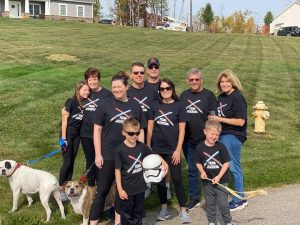 "If you have never joined or signed up for the Walk, I would highly recommend it," Kelly adds. "We have friends and family there to support us, but it's different when you're around people who are also raising a child with a bleeding disorder. No matter the circumstances, you will meet someone there who will become a friend… that you can reach out to."
We hope you will join us at the North Park Swimming Pool on Saturday, September 18th for a morning of fun, music, and celebration with the Western Pennsylvania bleeding disorders community! Can't make it on September 18th? Join us virtually for fun activities and celebration!
Register today at: https://uniteforbleedingdisorders.org/event/wpa