Local families & friends gathered at the North Park Boat House to support a very important cause, the 2016 Western Pennsylvania Hemophilia Walk, Run for Their Lives 5K, and the First Ever WPCNHF Cornhole Tournament on Saturday, September 17, 2016.  The Hemophilia Walk and Run for Their Lives 5K continues to be a resounding success with the help of so many individuals and business sponsors.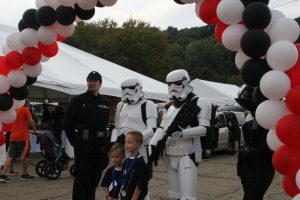 This year's highlights included a face painter, balloon artist, DJ, photo booth and a lot of special touches that made this day fun for the entire family. Thank you to:
First Class Entertainment for the DJ and Photo Booth services, Stacy McCarthy for the Henna Tattoos, Cynthia Jewel from Face Paint Pittsburgh, Balloon Artist Faerie Grace, and special appearances from the Pittsburgh Volunteer Princesses, Star Wars Characters from Garrison Carida 501st Legion, the Pittsburgh Pirate Parrot, Pittsburgh Steeler's Steely McBeam, and Tall Cathy from KISS 96.1 FM.
This day would not be possible without the support of our many team captains who rallied their runners and walkers and went over and beyond in all that they did.  Thank you to this year's Walk Chair, Kelly Baker.  Whether it is gathering and putting
together baskets for the raffle, putting together Walk wrap events, and selling calendars to support the Chapter, Kelly continues to go above and beyond to supp
ort the Chapter.
Congratulations to our top fundraising team Conor's Clan who raised an amazing $8,115, our top fundraising individual Emily Nikithser who raised a total of $3,914, and o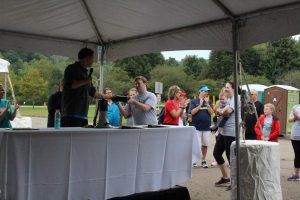 ur top youth fundraising individual Jaxson Baker who raised a total of $1,137.  A special shout out to Jen Miller and Luke's Lineup for continuing to be our largest walk team and for raising an incredible $6,796. Thank you for your passion and dedication!
This year's event had fabulous T-shirts designed by many of our walk teams.  Thank you to Jamie and Darin from Printeesweet for the printing of them, and for the many families that took time out to vote for their favorite T-shirt the day of our Walk.  Congratulations to Papa's Peeps as the official T-shirt winner, raising over $170.
Thank you to Elite Runners for the great job they did managing the Run for Their Lives 5k and to everyone who participated in the run.  Congratulations to the top three overall winners of the Run for Their Lives 5k.  First place went to Jeremy McNamara, second place went to Dan Rabe, and third place went to Joseph Pershina.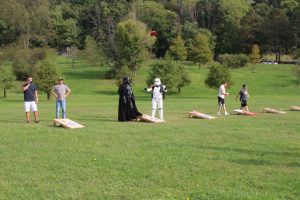 Thank you to Joe Castellano from Steel City Cornhole for running our first ever Cornhole Tournament and Pfizer Hemophilia for sponsoring this event!  Congratulations to the winners of the tournament! First place went to Adam and Barry of the 12 Packers, second place went to Joe and Dan of Steel City 1, and third place went to Chad and Dave of Hanging Chads.
Lastly and most importantly, thank you to each and every one of you that literally 'took steps' to join our cause.  100% of the money raised from the Walk, Run, and Cornhole Tournament stays local and will increase awareness of bleeding disorders, provide education to help people with bleeding disorders, and support advocacy initiatives at both state and national levels to help ensure access to medical care and equitable insurance reimbursement for all.
Mark your calendar now for our next event, Boo-ling for Bleeding Disorders! This Halloween Costume Party and Bowling Fundraiser will be held on Sunday, October 30th from 2pm-5pm at Paradise Island Bowl!  The cost is $25 per person and includes bowling, shoe rental, prizes, and unlimited pizza, wings, and soft drinks!