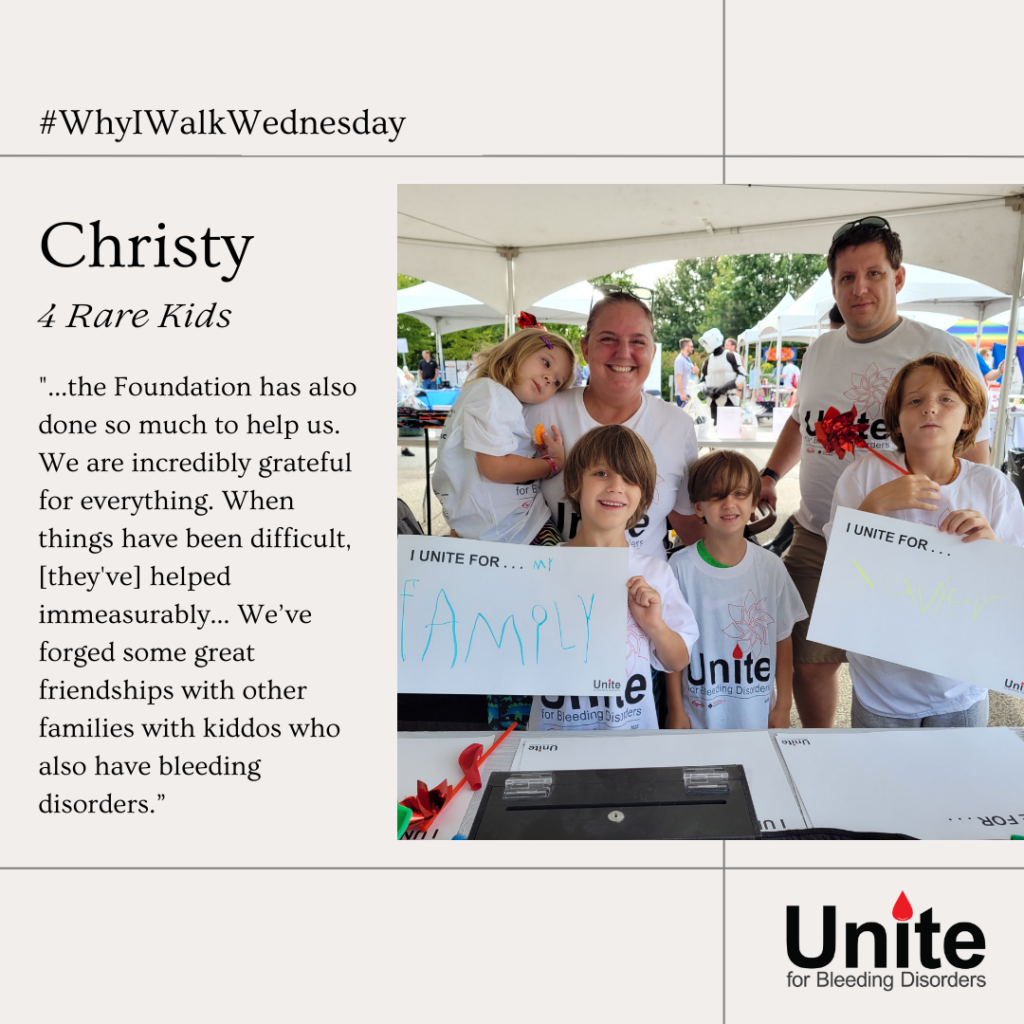 Team 4 Rare Kids is made up of the team captains, Christy and Jason, and their children, Seth, Spencer, Xavier, and Scarlett. Christy didn't learn that she had a bleeding disorder until she was an adult and needed a tonsillectomy. Her pre-op bloodwork showed some bleeding concerns, and at the time, she was diagnosed with von Willebrand Disease (VWD). It wasn't until hemorrhaging twice during birth, which required an emergency surgery after her second child to stop the bleeding, that she was sent to the Hemophilia Center of Western Pennsylvania (HCWP). When their son, Xavier, was born, he was tested, and they found out he also had VWD. Because of this diagnosis, Christy and Jason decided to test the entire family and found out Scarlett had VWD and Spencer also had VWD and Factor VII deficiency.
As testing changed, the family's diagnosis changed. It was determined that Christy didn't have VWD, but instead received her diagnosis of platelet dysfunction disorder. "Initially, the hematologist I saw thought I had hemophilia," Christy says. "… and having no known bleeding history in the family, paired with the little, misinformed knowledge I had of hemophilia, I thought he was bananas and kind of ignored it. When later testing showed what was going on, there was some relief knowing the explanation for all the bleeding I was having."
4 Rare Kids love participating in the Unite for Bleeding Disorders Walk to show their support and give back to the Western PA Bleeding Disorders Foundation (WPBDF). They fundraise to support all the education and programs put on by WPBDF. Christy says, "Not only do these programs support everyone in our local community, but the Foundation has also done so much to help us. We are incredibly grateful for everything. When things have been difficult, the Foundation has helped immeasurably… We've forged some great friendships with other families with kiddos who also have bleeding disorders."
Some of the families' favorite activities are Camp Hot-to-Clot, a camp specifically for children and siblings affected by bleeding disorders put on by the HCWP with support from WPBDF, and the Stay In Motion program, which encourages fitness, wellness, and friendship to improve the health of those affected by bleeding disorders!
Christy and Jason are so excited to walk with their family at the Unite for Bleeding Disorders Walk and hope you will join them! Register today at: https://uniteforbleedingdisorders.org/event/wpa