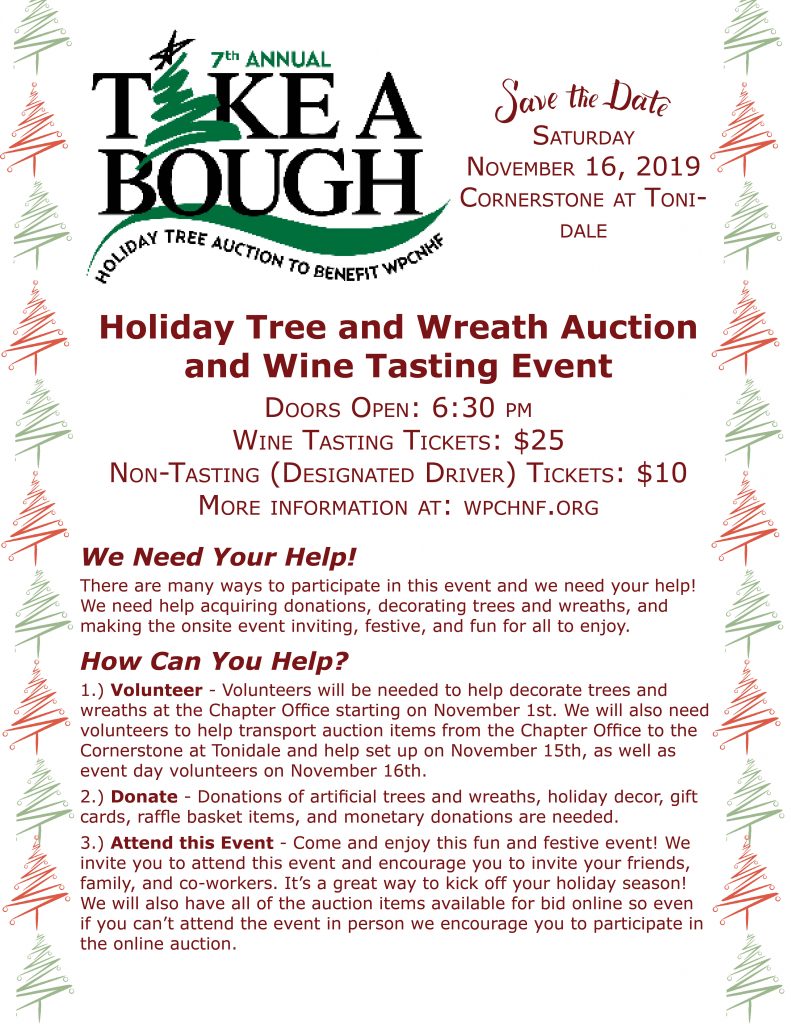 Holiday Tree and Wreath Auction and Wine Tasting Event
November 16, 2019 at the Cornerstone at Tonidale
Doors Open: 6:30 pm
Wine Tasting Tickets: $25
Non-Tasting (Designated Driver) Tickets: $10
More information at: wpchnf.org
We Need Your Help!
There are many ways to participate in this event and we need your help! We need help acquiring donations, decorating trees and wreaths, and making the onsite event inviting, festive, and fun for all to enjoy.
How Can You Help?
1.) Volunteer – Volunteers will be needed to help decorate trees and wreaths at the Chapter Office starting on November 1st. We will also need volunteers to help transport auction items from the Chapter Office to the Cornerstone at Tonidale and help set up on November 15th, as well as event day volunteers on November 16th.
2.) Donate – Donations of artificial trees and wreaths, holiday decor, gift cards, raffle basket items, and monetary donations are needed.
3.) Attend this Event – Come and enjoy this fun and festive event! We invite you to attend this event and encourage you to invite your friends, family, and co-workers. It's a great way to kick off your holiday season! We will also have all of the auction items available for bid online so even if you can't attend the event in person we encourage you to participate in the online auction.