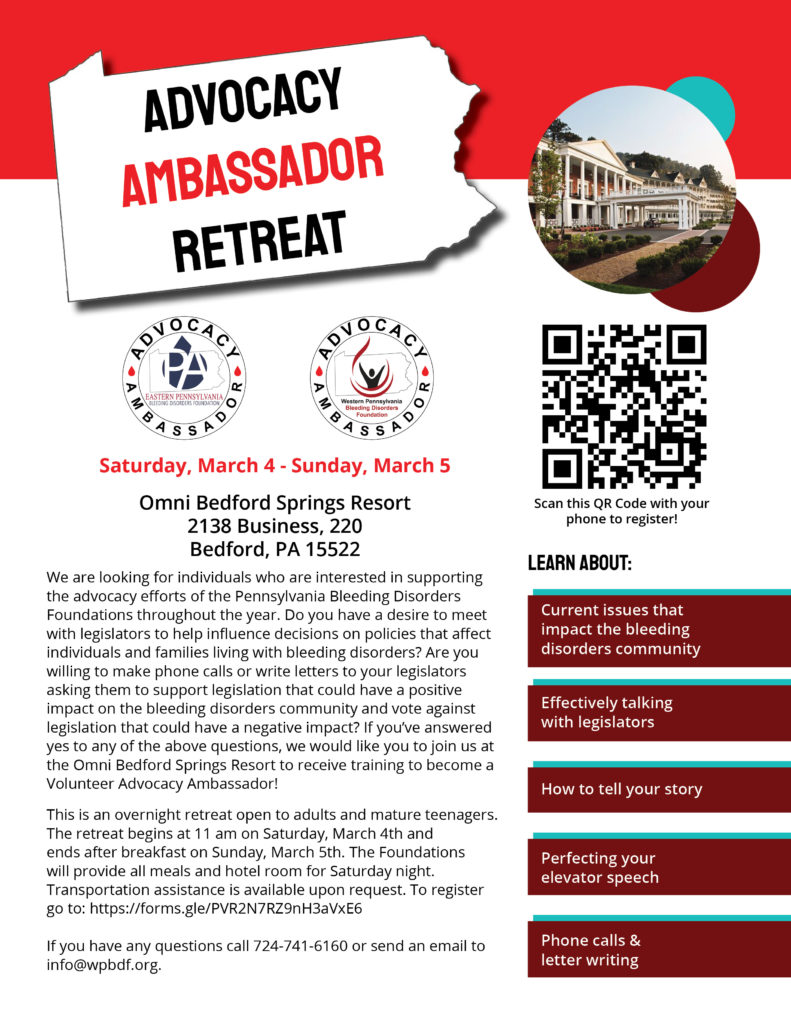 We are looking for individuals who are interested in supporting the advocacy efforts of the Pennsylvania Bleeding Disorders Foundations throughout the year. Do you have a desire to meet with legislators to help influence decisions on policies that affect individuals and families living with bleeding disorders? Are you willing to make phone calls or write letters to your legislators asking them to support legislation that could have a positive impact on the bleeding disorders community and vote against legislation that could have a negative impact? If you've answered yes to any of the above questions, we would like you to join us at the Omni Bedford Springs Resort to receive training to become a Volunteer Advocacy Ambassador!
This is an overnight retreat open to adults and mature teenagers. The retreat begins at 11 am on Saturday, March 4th and ends after breakfast on Sunday, March 5th. The Foundations will provide all meals and hotel room for Saturday night. Transportation assistance is available upon request. To register go to: https://forms.gle/PVR2N7RZ9nH3aVxE6
If you have any questions call 724-741-6160 or send an email to info@wpbdf.org.
Pennsylvania Advocacy Ambassador Retreat Agenda
Omni Bedford Springs Resort
Hotel rooms and meals will be paid for by WPBDF and EPBDF. Transportation assistance is also available.
Saturday, March 4, 2023 
11 a.m. – 11:30 a.m. –   Guest registration and vendor displays
11:30am – Opening Announcements and Ice Breakers
Noon – Lunch
12:30pm-1:45pm – Hot Topics in Policy
15-minute break
2pm- Your Voice Has Weight: Let's Advocate
3pm- Find Your Fight Song: Storytelling Workshop
4pm-5:30pm – Break/Check-in to rooms
5:30pm-6:30pm – Legislative Meeting Role Plays
6:30pm-8:30pm – Dinner and Advocacy Trivia
Sunday, March 5, 2023
Breakfast