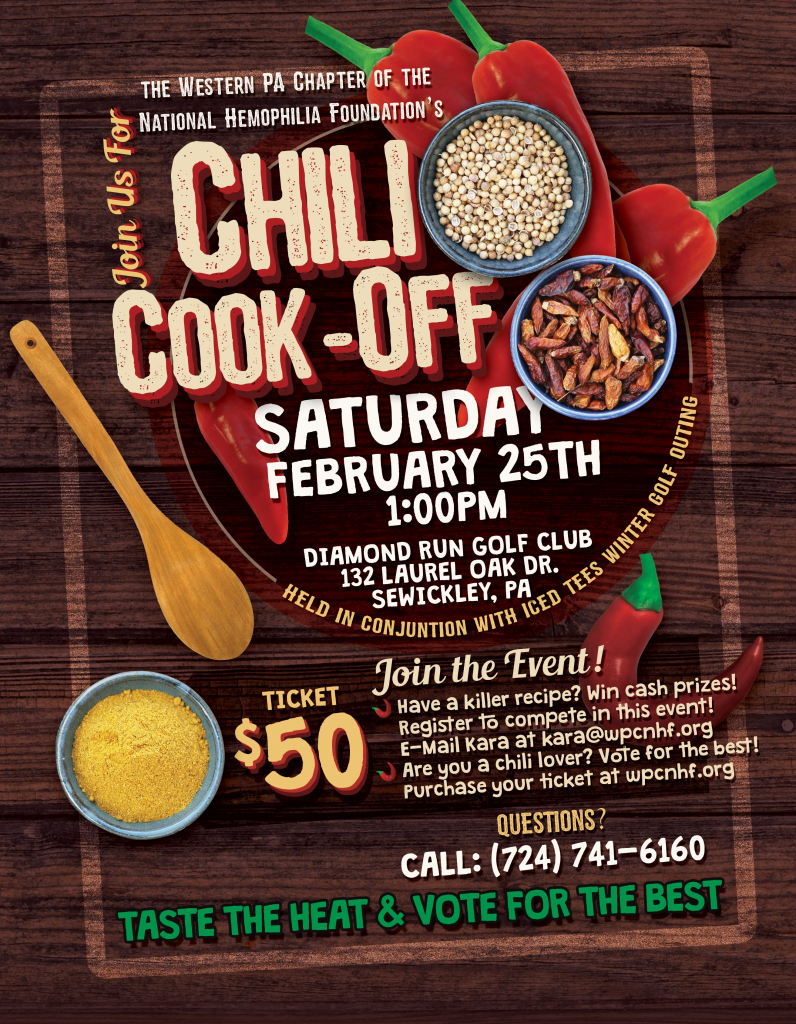 Believe you make the best chili in Western Pennsylvania?
We want you to compete in the Western PA Chapter of National Hemophilia Foundation Chili Cook-Off!
Compete for your chance to win cash prizes!
WPCNHF's Chili Cook-Off will be held on Saturday, February 25, 2017 at 1:00pm. This event is held in conjunction with the Second Annual Iced Tees Winter Golf Outing at Diamond Run Golf Club and will take place immediately following the Outing. Register by downloading this application form and mailing it in by Wednesday, February 15, 2017. We will provide taste cups, spoons, and napkins – all you need is the chili and a serving spoon!
Mail your Contestant Application to:
WPCNHF
ATTN: Kara Dornish
20411 Route 19, Unit 14
Cranberry Township, PA 16066
Application and fees must be received by Wednesday, February 15, 2017. Entry fee includes two chili tasting entries, two contestant t-shirts, and a participation plaque. Chili will be judged by the public. Cash prizes will be awarded to the best chili cooks!
Questions? Call the WPCNHF Office at 724-741-6160 or e-mail Kara at kara@wpcnhf.org.
Want to attend the Chili Cook-Off and vote for your favorites? Click here to purchase tickets!