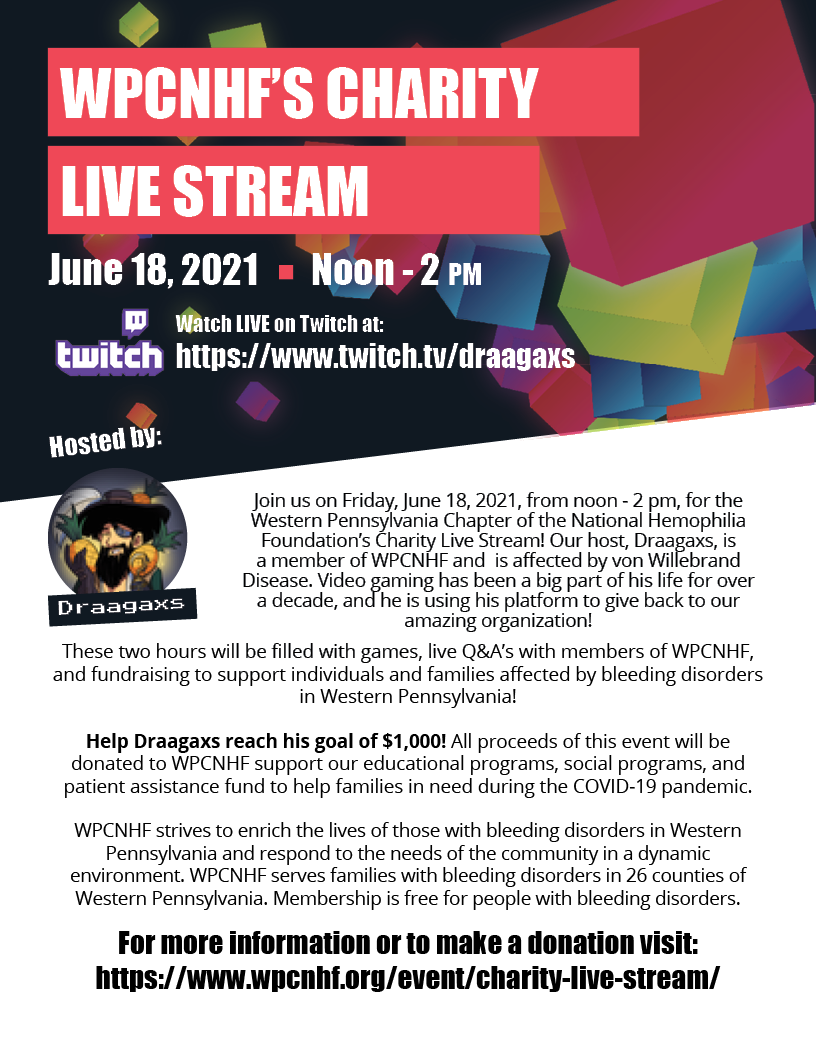 Join us on Friday, June 18, 2021, from noon – 2 pm, for the Western Pennsylvania Chapter of the National Hemophilia Foundation's Charity Live Stream! Our host, Draagaxs, is a member of WPCNHF and is affected by von Willebrand Disease. Video gaming has been a big part of his life for over a decade, and he is using his platform to give back to our amazing organization!
These two hours will be filled with games, live Q&A's with members of WPCNHF, and fundraising to support individuals and families affected by bleeding disorders in Western Pennsylvania!
Help Draagaxs reach his goal of $1,000! All proceeds of this event will be donated to WPCNHF support our educational programs, social programs, and patient assistance fund to help families in need during the COVID-19 pandemic.
WPCNHF strives to enrich the lives of those with bleeding disorders in Western Pennsylvania and respond to the needs of the community in a dynamic environment. WPCNHF serves families with bleeding disorders in 26 counties of Western Pennsylvania. Membership is free for people with bleeding disorders.
You can join us live on Twitch at: https://www.twitch.tv/draagaxs
Can't make it on June 18th? You can still support WPCNHF and the bleeding disorders community by making a donation at: https://www.classy.org/give/175023/#!/donation/checkout