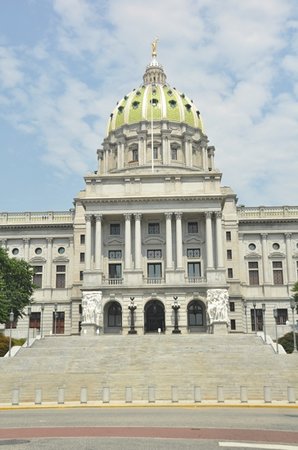 Wednesday, April 17, 2019 will be officially recognized as "World Hemophilia Day" in Pennsylvania as resolved by the Commonwealth's Senate (SR 79 – Costa) and House of Representatives (HR 207 – Frankel). On this day, the Capitol dome will be lit red in honor of the occasion.
In unison with World Hemophilia Day, key Philadelphia landmarks will also be lit red. These include Boat House Row, the FMC Tower and the Cira Center. Additionally, a scrolling message will appear on the top of the PECO Building.
Hemophilia is a rare genetic bleeding disorder where blood does not clot properly causing people to bleed longer and have difficulty healing from external and internal injuries. It is estimated that more than 400,000 people worldwide are living with hemophilia, with 20,000 of those people living in the United States.
More than 3,000 people living with hemophilia and other bleeding disorders reside in Pennsylvania. In 1974, Pennsylvania became one of the first states in the U.S. to establish state support for hemophilia. Residents with bleeding disorders heavily depend upon Pennsylvania's seven Hemophilia Treatment Centers to provide critical, life-saving treatment and support.
Therefore, on April 9, 2019, the Eastern and Western Pennsylvania Chapters of the National Hemophilia Foundation hosted its annual advocacy day at the Pennsylvania State Capitol where residents and family of those afflicted with a bleeding disorder advocated for continued funding to support the state's seven Hemophilia Treatment Centers.
Representative Frankel and WPCNHF Chapter Members
Senator Costa with WPCNHF Chapter Members
"Our annual PA Advocacy Day is a wonderful way for those affected and their families throughout the Commonwealth to meet with legislators about issues important to our community," explains Curt Krouse, Executive Director of the Eastern Pennsylvania Chapter of the National Hemophilia Foundation.
"There are approximately 6.9 million people worldwide with a bleeding disorder and 75% of them don't know it. World Hemophilia Day gives us an opportunity to increase awareness and educate people about bleeding disorders which we hope will lead to proper diagnoses and treatment." adds Janet Barone, Member Services Manager of the Western Pennsylvania Chapter of the National Hemophilia Foundation.
Additional information and resources for World Hemophilia Day can be found at: www.wfh.org/en/whd.