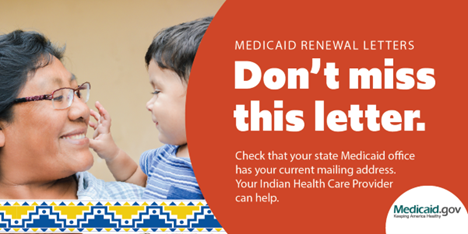 [This content was authored and reused with permission by the Centers for Medicare & Medicaid Services (CMS)]
Do you or a family member currently have health coverage through Medicaid or the Children's Health Insurance Program (CHIP)? If so, you may soon need to take steps to find out if you can continue your coverage. Soon, states will resume Medicaid and CHIP eligibility reviews. It's important that you respond to any communications you receive from your CHIP or Medicaid program. This means some people with Medicaid or CHIP could be disenrolled from those programs.
Here are some things you can do to prepare right now.
Make sure your address is up to date
`     Make sure Pennsylvania has your current mailing address, phone number, email, or other contact information. This way, they'll be able to contact you about your Medicaid or CHIP coverage.
Check your mail
Pennsylvania may mail, email you, or even text you about your Medicaid or CHIP coverage. This message will also let you know if you need to complete a renewal form to see if you still qualify for Medicaid or CHIP. If you get a renewal form, fill it out and return it to your state right away. This may help you avoid a gap in your coverage.
What if you don't qualify for Medicaid or CHIP?
If you or a family member no longer qualify for Medicaid or CHIP, you may be able to buy a health plan through the Health Insurance Marketplace.
Plans are:
4 out of 5 enrollees can find plans that cost less than $10 a month.
Most plans cover prescription drugs and provider services such as, doctor visits, urgent care, hospital visits, and more.
Visit HealthCare.gov to find Marketplace plans and see if you might save on premiums. When you apply, don't forget to include current information about your household, income, and your state's recent decision about your Medicaid or CHIP coverage.
Get more information
Find contact information for your state Medicaid office here, and follow instructions for how to contact them.
Or visit Medicaid.gov for more information about Medicaid or CHIP renewal.
Call the Marketplace Call Center at 1-800-318-2596 to get details about Marketplace coverage