There are a number of assistance programs available to patients with bleeding disorders. Each program has unique guidelines and limits. The Chapter and the Hemophilia Center of Western Pennsylvania work together to help patients receive the maximum assistance needed to meet their needs and improve their current situation. Eligibility varies by program and each program has different monetary limits.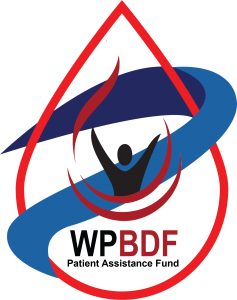 WPBDF Patient Assistance Fund 
The WPBDF Patient Assistance Fund is available to help families and individuals in the bleeding disorders community in unusual, emergency situations. It is supported by generous contributions from individuals, foundations, and corporations committed to supporting the bleeding disorders community.
Examples of appropriate grants are for utility bills, transportation to treatment, rent support, period products for women with bleeding disorders, medical ID jewelry, medical supplies not covered by insurance, knee, elbow, and ankle braces, etc.
The WPBDF Patient Assistance Fund should be used as a payer of last resort and is not meant to be used to remedy chronic financial problems.
Process
To assist in the review and validation of applications for aid, we accept requests from the Hemophilia Center of Western Pennsylvania and its affiliated social workers. These individuals typically know the candidates, understand their current financial state, and are better suited to determine the severity of the need for emergency funds. They can also assist with creating a plan and connecting candidates to community resources. The social workers submit the individual's application for emergency aid supported by proper documentation.
If the person needing assistance is not a patient of the Hemophilia Center of Western Pennsylvania, the Chapter will handle the request directly with the third party or the referring physician's office. In this case, the patient must provide proof of medical condition or recommendation from his/her physician. They must also complete all paperwork to become a member of the Chapter if they have not already done so.
Follow-up calls may be necessary when information is missing or to discuss the specific case when the need is unclear. Whenever possible, the payment will be made directly to the provider.
If you have any questions contact Janet Barone, Program Director, at 724-741-6160 or janet@wpcnhf.org.
Thank you to the Hemophilia Alliance Foundation and CVS for their support of this program!
WPBDF's Grocery Assistance Program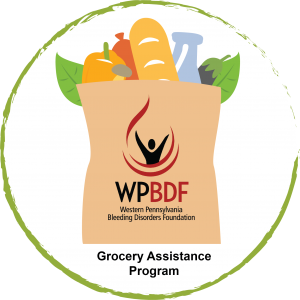 The Western Pennsylvania Bleeding Disorders Foundation realizes hardship can strike at any time. We will be continuing to offer a Grocery Assistance Program to anyone in the bleeding disorders community who is struggling with a financial hardship. This fund will provide gift cards for groceries, $100 per family member, up to $400 per family.
 Eligibility:
1.) The applicant is a member of the Western Pennsylvania Bleeding Disorders Foundation with a bleeding disorder or lives in the same physical household as a person with a bleeding disorder.
2.) The household income has significantly decreased and applicant is unable to pay essential household bills.
3.) If the household has already received grocery gift cards from the Fund, and the household is facing food insecurity and needs further assistance, we encourage you to apply again. Applications will be reviewed on a case-by-case basis.
Application Process:
1.) Click here to submit an application online.
2.) Confidential application call: A WPBDF staff member will review the application and call the applicant to confirm information. Staff may also share additional resources that may help the household.
3.)Efficient, effective help: When the application is approved a grocery gift card will be mailed or emailed to applicant for immediate assistance.
State Assistance Program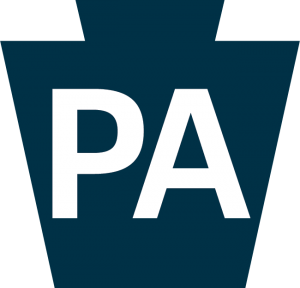 The State Assistance Program is administered by the state Specialty Care Program and the budget renews every year. This program is intended to minimize barriers preventing patients from accessing care of their bleeding disorder. Every situation is unique and the categories that the program can support are broad. There is an application process, and certain income limits must be met; however, these limits are fairly generous. There is a cap on how much a patient can apply for.
Process
Applications for this program are processed through the Hemophilia Center of Western PA (HCWP). Patients of the HCWP should contact one of the social workers for more information: 412-209-7280
Helping Hands
The Hemophilia Federation of America's (HFA) Helping Hands program provides emergency assistance with urgent basic living expenses (housing and utilities, some transportation related assistance), medically necessary items, and additional resources for people with inhibitors. Additionally, HFA is currently running a dedicated COVID-19 relief fund which provides financial assistance for payment toward one essential household bill.
Process
For the Emergency Assistance Program, the referrer must be your physician, nurse, social worker, bleeding disorder organization representative, or homecare representative and CANNOT be yourself, your relative, or your employer. Eligible referrers submit a referral through HFA's portal. Patients/Caregivers should expect to have a phone call with an HFA representative as part of the application process.
For a description of all HFA's assistance programs and application processes, visit: https://www.hemophiliafed.org/our-role-and-programs/assisting-and-advocating/financial-assistance/
In addition, a description of drug manufacturer copay programs, product assistance programs, and insurance navigation programs can be found on HFA's Patient Assistance Portal: https://www.hemophiliafed.org/uploads/HH_PatientAssistancePortal_MANUFACTURER-CO-PAY-ASSISTANCE_ENGLISH.pdf