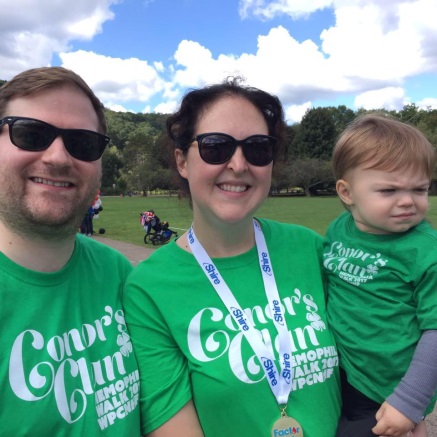 Emily and her husband Pat are parents to almost 2 year old Conor who has severe Hemophilia A.  He was diagnosed at birth. Emily remembers she was contacted almost immediately by WPCNHF to see if her and her family needed support.  Emily and her family made an effort to be active members ever since.  As Emily explained, "Conor's Clan is a great example of how wonderful our support system is. Our team is a group of family and friends that mean the world to us and we are so thankful to have them."
Conor's Clan held two very successful fundraisers to raise money for the Hemophilia Walk this year. Conor's Clan Car Wash was the first event they organized this year.  They also held this event last year and had great success. Emily stated, "We came up with this idea by brainstorming and trying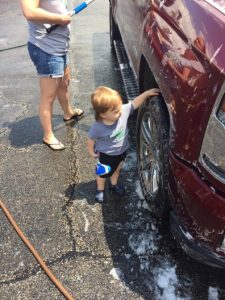 to come up with an idea that we felt would be feasible and had the potential to make an impact.  This was the perfect fundraising starter. We are lucky enough to have a close friend that owns a business in a great visible location in our town.  I contacted him and he was kind enough to let us use his parking lot and water on a Saturday when his office was closed."
In order to plan the car wash, Emily started a private Facebook group that she used for communication to Conor's Clan members. She started there by taking a poll on potential dates for the event to see who would be available to help.  After establishing a date, her family and friends work together to make the event fun by providing music, food and drinks.  Emily's husband, Pat, is an active member in their local chapter of the Jaycees and their members are always so willing to help!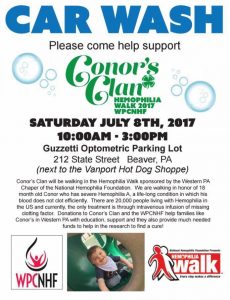 To advertise the event, Emily relied heavily on social media. As Emily explained, "I created a flyer that could be shared on Facebook, Instagram, and other social media platforms.  We are so lucky to have so many people in the community that follow Conor and share our events around.  We also made large posters to advertise on the street the day of the carwash." Conor's Clan raised an incredible $1,006 at their car wash!
When asked what advice Emily would give to others who would like to hold a similar fundraiser, Emily said, "Just give it a shot!  I'm also surprised at how much fun we have with this event and how profitable it is.  It's a perfect way to fund raise even if you've never planned an event before.  There is minimal preparation and if you can find a location willing to let you use their water the overhead costs stay pretty low.  It's a cool way to spend time with friends and family on a summer day, for a wonderful cause, and it's a great workout too!"
Conor's Clan also held Conor's Character Breakfast which raised an amazing $1,300 for the Chapter! Conor's Character Breakfast came from a similar event that Emily had seen advertised.  She thought it was such a great idea and that the kids in our community would LOVE it!  Emily hired the character through Lovely Day Events who gave her a significant discount. She also had Iceburgh from the Pittsburgh Penguins donate an hour of his time. Emily learned that you can request to have most Pittsburgh sports mascots for fundraising events through their websites by filling out a form and submitting it.  It helps to do this very early though because their time fills up quickly.
Emily wanted the event to be in her hometown because she wanted her friends and family to be able to easily visit with the characters. She ended up
renting a local fire hall that had plenty of room and would accommodate the characters. She received help from her husband and brother-in-law who stood in the kitchen of the fire hall throughout the entire event cooking and serving pancakes and sausage!
Emily and her team advertised this as an event on Facebook.  She relied on her contacts to share the event to spread the word.  She also created flyers that she put up in different locations around the community. When asked what advice she would give to others who would like to hold a similar fundraiser, Emily stated, "Start early!  The earlier you start with the planning the better chance you have for lining up sponsors and volunteers.  We are hoping to make this event annual and this year we would like to seek out more sponsors and in-kind donations to help with the overhead costs involved.  Try not to stress about success or failure.  No matter the outcome the smiles we saw at the event were worth it all."