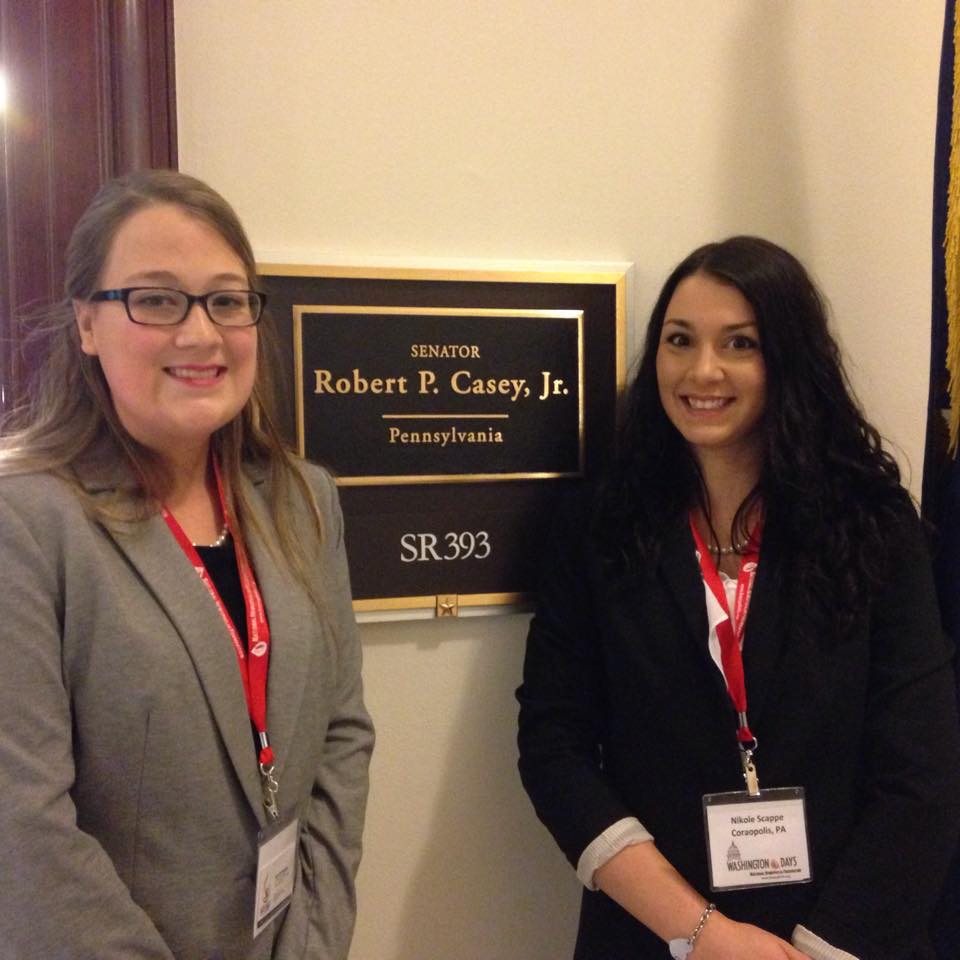 This article was originally published in the April 2015 issue of Hemaware.  
Young Advocates
Making their mark at Washington Days
By: Matt McMillen
During Washington Days, you can make your story count. That's what Nikole Scappe, 23, learned last year when she joined the National Hemophilia Foundation's (NHF's) annual advocacy push on Capitol Hill for the first time.
Scappe, who has type 1 von Willebrand disease (VWD), was misdiagnosed for years. Bleeds that caused joint swelling were thought to be growth plate or hairline fractures. The numerous casts she wore on her arms and legs at age 13 led to potentially long-term joint damage. "I received the wrong treatment," says Scappe, a sophomore at La Roche College in Pittsburgh. "Instead of receiving medication to stop the bleeding, I had casts put on me." She did not receive proper care until she went to the Hemophilia Center of Western Pennsylvania in Pittsburgh at age 14. That's one reason Scappe wants to help press for continued federal funding for hemophilia treatment centers (HTCs) around the country.
"If we go to DC, and we keep talking to these senators and representatives, hopefully we can keep our funding," says Scappe. She was among the 340 who attended the 2015 Washington Days event February 25–27, her second time at the annual lobbying event. This year Scappe assisted in both the youth and adult advocacy training NHF provided. "Over the years, I have watched my mother and mentors advocate for my family. Now I feel that it is my turn to advocate for myself and also for anyone who is unable to self-advocate," she says. "Telling the politicians our stories and reminding them that we're still here really shows them that we care."
Young advocates at work
This year, young advocates lobbied members of Congress to maintain HTC funding. They also championed another cause: access to skilled nursing facilities (SNFs) and the funds to cover clotting factor during treatment there.
Lucas Rice, 19, of Indianapolis attended Washington Days this year for the second time. Last year, he talked to Indiana politicians about the high financial cost of hemophilia treatment. "Factor can cost $3,000 to $4,000 per dose," says Rice. He has severe hemophilia A and faced being charged as much as 25%–33% of the cost of his life-saving medication. "For somebody like me, who at the time had to take factor every other day, that's $175,000 a year, at the least. There's no way to afford to take that medicine." Making the trip to DC made a difference. "It was very effective," Rice says. "They had questions for us, and they listened. They were very responsive."
Alex Johnson, 24, is a four-year veteran of Washington Days. The Ypsilanti, Michigan, resident has type 2M VWD. She did not know anyone else with a bleeding disorder until she was 18 and began working at Camp Bold Eagle in Holton, Michigan. Advocacy work has strengthened her connection to the bleeding disorders community.
"I became hungry for more of that type of community," says Johnson. "When I heard about national-level advocacy opportunities, I couldn't wait to do that." Johnson, a medical technologist at the University of Michigan, did not attend Washington Days this year.
Johnson learned about Washington Days through NHF's National Youth Leadership Institute (NYLI). She  was a bit apprehensive at first, assuming that everyone in Washington would be inaccessible, rather than open-minded. "People, myself included, underestimate how much of an impact it can make just to put a face to a line item in a bill, to say I am the face of how this affects the community," Johnson says. "It's pretty profound."
The experience can also be profoundly intimidating, says Callie Clark, 23, who has type 1 VWD and thalassemia, a blood disorder that can cause anemia. She's in the business administration master's degree program at Lourdes University in Sylvania, Ohio. "It was nerve-wracking­, especially at first," Clark says of meetings with politicians such as Sen. Sherrod Brown (D-Ohio). That's a common feeling among attendees.  Four years and four trips to DC later, some of that intimidation remains. "It's still there, because it's something you don't do every day, but it's gotten easier over the years," says Clark. "The NHF training really helps."