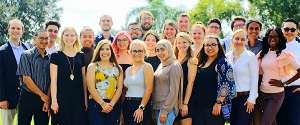 The National Youth Leadership Institute (NYLI) at the National Hemophilia Foundation (NHF)  provides youth (18-22 years old) in the bleeding disorders community with leadership opportunities to encourage personal growth, effect change, and positively influence others.
NYLI is looking for the next generation of leaders in the bleeding disorders community—and wants to give them skills they can use to get there. NYLI members receive skills that will help them succeed in life including public speaking, project planning, and advocacy—all while giving back to the bleeding disorders community.
What They're Looking For:
Self-starters with bold ideas
People who can work in a team and independently
Strong communication skills
A desire to work with the bleeding disorders community
Availability to travel (all expenses are reimbursed)
What NYLI members receive:
Training in interview skills and public speaking
Travel to NHF conferences and advocacy events
Strong bonds with peers in the bleeding disorders community
Opportunities for internships
To apply, please click here to visit NYLI's website for eligibility requirements and to submit your online application.
If you have any questions, contact Marlee Whetten, Education Specialist, at mwhetten@hemophilia.org.
What is NYLI?
NYLI is a three-year program designed to assist young people from the bleeding disorders community to become well-trained, recognized leaders. In addition, NYLI provides an amazing opportunity for youth to learn and share experiences of living with a bleeding disorder. NHF achieves these outcomes by providing young adults with training, support, and opportunities to provide education to the bleeding disorders community.
As of January 2015, the NYLI program has implemented a three-year curriculum. The program will continue to provide youth with the same opportunities to become established leaders and speakers in the bleeding disorders community, while also providing them with the tools to implement more direct programs at the local level.
Each year of the program will focus on developing specific skills through a variety of in-person trainings, webinars, and year-round communication.  Please visit https://www.hemophilia.org/Events-Educational-Programs/NYLI  for more information regarding the program.