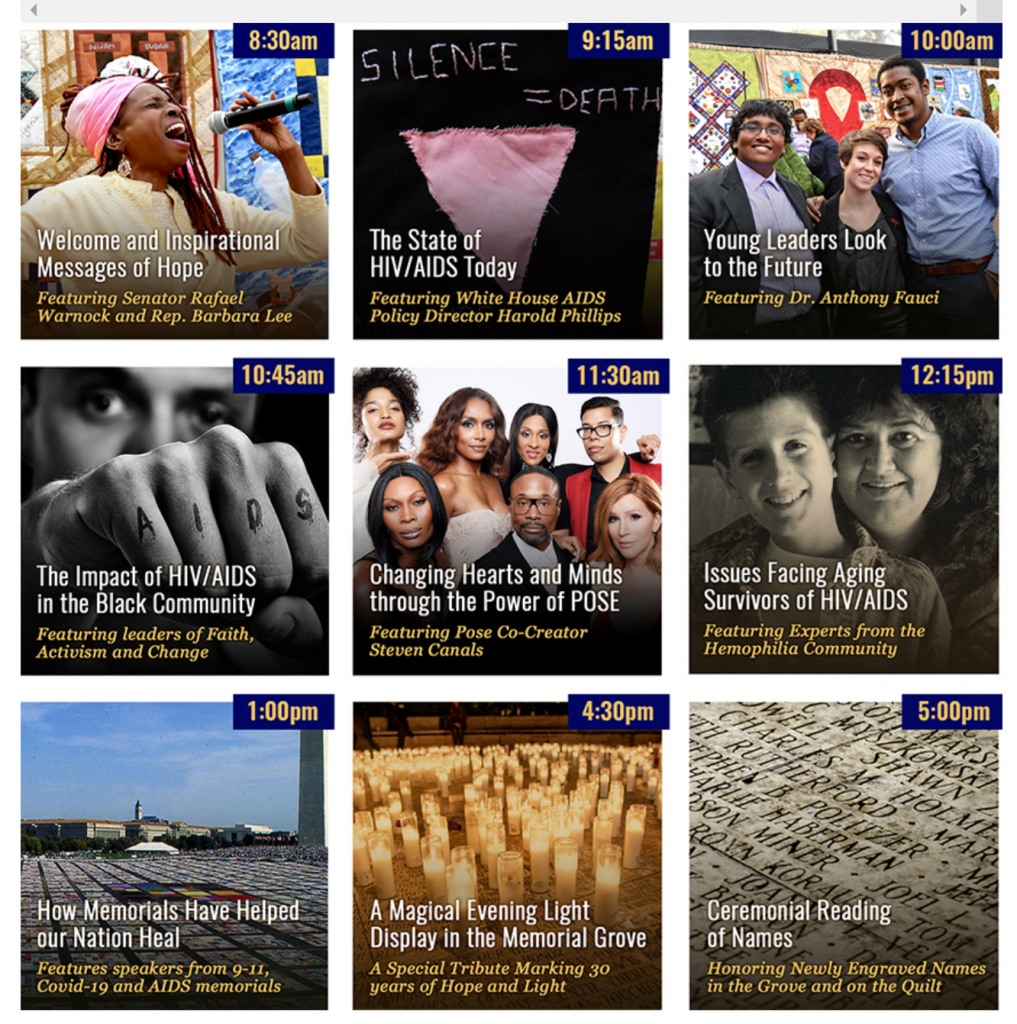 Join the National AIDS Memorial and their partners on World AIDS Day with powerful voices for a series of inspiring and insightful conversations. 2021 marks 40 years since the first cases of AIDS were reported in the United States, a pandemic that has led to more than 700,000 lives lost and still no cure four decades later. This year, as our nation continues to struggle through another pandemic, the National AIDS Memorial will deliver its annual World AIDS Day National Observance to the nation through this virtual forum with timely and powerful discussions focused on health and social justice, particularly among communities of color.
JOIN US HERE ON DECEMBER 1, 2021 FOR A VIRTUAL FORUM
CLICK HERE to see our complete list of speakers and full program for the day. Join us as the conversations are presented live or anytime during the day and be part these impactful series of conversations on World AIDS Day.
Join the National AIDS Memorial for one or all conversations throughout the day or anytime at your convenience.  Some of our featured speakers include Dr. Anthony Fauci ~ White House National AIDS Policy Director Harold Phillips ~ U.S. Senator Raphael Warnock ~ Congresswoman Barbara Lee ~ Paul Kawata, Executive Director, NMAC ~ history-making television series Pose co-creator and executive producer Steven Canals and co-executive producer Our Lady J ~ Toni Newman, Interim CEO, Black AIDS Institute ~ Leonard Valentino, M.D., President & CEO, National Hemophilia Foundation ~ Monica Gandhi, M.D., MPH, Professor of Medicine and Division of HIV, UCSF ~ Suzanne Brennan Firstenburg, Creator of In America: Remember ~ Anthoula Katsimatides, Founding Member, 9-11 Memorial and Museum ~ Bishop O.C. Allen, Executive Director, Vision Community Foundation ~ Dr. Shonda Jones, PI & Founder, The Gilead COMPASS Initiative Faith Coordinating Center.